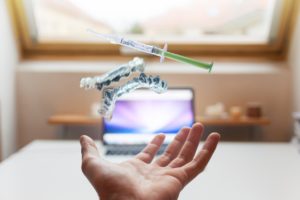 If your smile isn't as bright as it used to be, you're not alone. Tooth discoloration is a common complaint among adults of all ages. You've probably tried a few OTC whitening products to revitalize your smile, but did you know not all discoloration is the same? If you're not using the right treatment, you're not going to achieve the results you want. Here's how to combat different types of tooth stains to turn back the clock on your smile. 
Types of Tooth Discoloration
Teeth naturally come in a variety of colors and shades. Few people have perfectly white teeth, and various factors affect their color over time, like age, genetics, or trauma. As a result, you need a unique approach to counteract the source of the discoloration. Tooth stains fall into 3 categories:
Extrinsic
Stains affecting the tooth enamel are known as extrinsic. They are typically caused by regularly consuming darkly pigmented foods and drinks or smoking. The surface stains are easy to treat using a professional whitening system.
Intrinsic
Discoloration that originates from the tooth structure is called intrinsic, which is more difficult to treat than surface stains. Instead of appearing brown or yellow, a tooth can have a grayish tint caused by certain medications, trauma, genetics, or tooth decay. OTC products and in-office treatments won't have any effect on resolving intrinsic stains. Your cosmetic dentist will determine the source of the differentiation to find a suitable solution, like a filling, veneer, or bonding.
Age-Related
Your enamel becomes thinner from years of wear and tear, which exposes more of your yellowish dentin. Your teeth can look yellow or unhealthy. Age-related staining can be a combination of both extrinsic and intrinsic factors. Therefore, you'll need a personalized treatment plan to accomplish the results you desire.
Reveal a Brighter Smile
OTC products won't provide any noticeable results because they don't contain professional-grade whitening agents. If you're ready to stop throwing money down the drain, your cosmetic dentist can help. They offer multiple teeth whitening solutions to get your smile significantly brighter. Depending on your specific situation, you may be a candidate for:
Teeth Whitening
A take-home kit from your dentist allows you to achieve in-office results using the convenience of an OTC product. When used to treat age-related or extrinsic stains, your teeth can get up to 8 shades whiter.
Dental Bonding
If a tooth or two is discolored, a cosmetic resin can cover the stains, which can be ideal for extrinsic, intrinsic, or age-related concerns.
Veneers
Veneers correct multiple aesthetic issues, not just discoloration. You can achieve a stain-resistant smile you'll want to show off.
Don't let the weight of tooth discoloration hold you back from feeling your best. Contact your cosmetic dentist to revamp your smile.
About Dr. Nirav Patel
Dr. Patel completed advanced training in general dentistry after earning his dental degree. He regularly supplements his education to provide a broad spectrum of services, including cosmetic dentistry. If you are ready for a radiant smile, contact our office today.