We're In-Network With Your Dental Insurance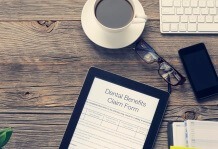 Dental insurance is a wonderful investment in your and your family's oral health. People who benefit from insurance may even enjoy healthier teeth over a lifetime, as these plans make it far more affordable for you to undergo necessary preventive care. Dr. Nirav Patel is in-network with a number of dental insurance plans, and he's the Cigna, Delta Dental, and Aetna dentist Palm Beach Gardens turns to for quality care!
Dental Insurance vs. Medical Insurance
Dental insurance is similar to your medical insurance, but with more of an emphasis on prevention. While medical insurance works to cover your medical care after you are already sick, your dental insurance provider's goal is to prevent the need for costly, complex treatments altogether.
Under most dental insurance plans, you can receive two free checkups and cleanings annually. These routine appointments are very important for keeping cavities, gum disease, and other oral health hazards at bay. You and your family may also be eligible for additional preventive services, like fluoride treatments and dental sealants, under your plan.
If we do detect an issue during the routine exam, we can provide the most conservative treatment possible when we see you regularly. Restorative treatments (like fillings, crowns, root canal, and extraction) are usually covered up to 80% by dental insurance plans.
Visiting an In-Network Provider Is Key
One of the most important things you can do if you have dental insurance is be sure you are visiting a dentist who is in-network with your provider. That means the dentist has come to an agreement to provide services at a predetermined, reduced rate for you. For example, if you have Cigna dental insurance, you should start your search looking for a Cigna dentist in Palm Beach Gardens.
You may still be eligible for the same discounts visiting an out-of-network dentist, but you will be expected to pay the full amount out of pocket and then wait to be reimbursed for the full amount later on.
Smile Solutions is in-network with the following insurance providers:
Aetna Dental
Ameritas Dental
Anthem Blue Cross Blue Shield
Assurant Dental
Careington PPO
Cigna Dental
Delta Premier
Dentegra
Florida Combined Life
Geha/Connection Dental
Guardian
Humana Dental
Metlife Dental
Premier PPO
United Concordia
United Healthcare
Even if you do not see your provider on this list, our team of insurance experts will still file all the paperwork to make sure you receive the benefits you are eligible for. Please feel free to contact us to discuss the details of your plan at any time.
Make the Most Out of Your Insurance!
If you have dental insurance, make sure you are visiting a dentist who is in-network with your plan. The team at Smile Solutions is happy to accept a number of insurance plans -- 17, in fact. Make the most out of your plan by scheduling an appointment with your Delta Dental dentist in Palm Beach Gardens today!