High Quality Dentures & Partials in Palm Beach Gardens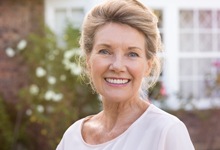 If you have lost a significant number of teeth, a denture or partial offers a sturdy solution which renews your ability to eat, speak, and smile with total confidence. Dr. Nirav Patel is pleased to offer high quality dentures for Palm Beach Gardens at Smile Solutions Dentistry.
What Are Dentures?
Dentures are prosthetic teeth that are attached to a plastic base which is designed to look like your gum tissue. A denture can be retained by dental implants ( an implant-retained overdenture) or held in place using suction or brackets. Dentures can be fixed or removable, and they replace teeth in the upper and/or lower jaw.
Dentures have long been trusted as a solution for replacing a significant number of teeth. Today's modern methods and materials help dentures look and feel natural for a more effective tooth replacement overall.
Partials & Complete Dentures
Depending on the number of teeth you have lost, your dentist will either recommend a partial or a complete denture.
A partial denture replaces teeth when there are still some healthy natural teeth remaining in the gum line. Secured with metal brackets that are attached to the other teeth, the partial fits in like a missing puzzle piece.
A complete denture replaces an entire row of missing teeth. It is held in place with natural suction, and a denture adhesive or cream may provide additional security if needed.
Implant-Retained Dentures
Patients who are eligible for dental implants should strongly consider an implant-retained denture. This is by far the best option for tooth replacement, as the teeth are secured by prosthetic teeth roots in the gum line rather than just resting on the gums.
Implant-retained dentures offer the following benefits:
Improved oral and overall health
Mimics the natural tooth structure
Easier to eat a nutritious diet
Improved speech
A long-lasting solution
Getting a Denture
To create a traditional denture, your dentist will take x-rays and an impression (or mold) of your teeth. If you still have healthy teeth remaining, your denture can be created to match the color of the surrounding tooth enamel. Your treatment plan information is sent to the lab, where the denture is crafted according to your specific needs.
It takes a couple of weeks to prepare the denture. We will schedule a follow-up visit for once it's ready.
Denture Maintenance
We will provide you with thorough instructions on how to care for your denture. Proper maintenance is important for your oral and overall health. You should clean the denture with a mild soap or denture cleanser at least once a day. Wear it to eat, but remove and soak it overnight while you sleep. Attend regular checkups with your dentist and notify us if your denture starts to become loose or uncomfortable, as you may need a slight adjustment.
Questions? Book a Visit Today!
Your comprehensive, caring, and high quality dentist is Dr. Patel. To learn more about dentures and whether or not they are the ideal solution for your smile, you are invited to contact us or request an appointment online today!