Dentures – Palm Beach Gardens, FL
High-Quality Prosthetics for Healthier Smiles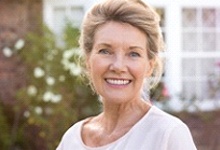 If you have lost a significant number of teeth, dentures in Palm Beach Gardens off a sturdy solution that renews your ability to eat, speak, and smile with total confidence. Dr. Nirav Patel is pleased to offer high-quality prosthetics at Smile Solutions Dentistry, each designed to improve your appearance and provide greater functionality for a healthier, more vibrant smile. Contact us today to find out which denture is right for your specific needs.
Who is a Good Candidate for Dentures?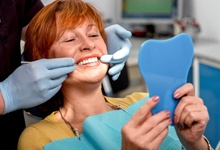 Dentures have long been trusted as a solution for replacing a considerable number of teeth. Today's modern methods and materials help dentures look and feel natural for a more effective tooth replacement overall.
If you are missing an entire arch along the top or bottom row, full dentures or those held into place with dental implants can restore your smile and make it possible to perform normal daily tasks once again. If you are only missing a few teeth along a row, a partial may be more suitable to your needs. No matter which method is right for you, our team at Smile Solutions Dentistry will thoroughly explain the placement process and what you can expect after receiving your new prosthetic. As long as you are in good general health, have healthy gum tissue, and ample jawbone, you can expect to be eligible for dentures.
What Are the Different Types of Dentures?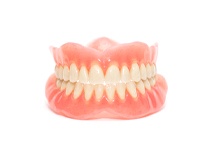 At Smile Solutions Dentistry, your dentist in Palm Beach Gardens will discuss the three different prosthetics to choose from:
Partial Dentures
Whether you're missing two or more consecutive or nonconsecutive teeth along the upper or lower arch, a partial denture can easily be created to work similarly to a puzzle piece. Crafted using an acrylic, gum-colored base that closely matches your natural gum tissue, artificial teeth are attached to the base to fill in the vacated sockets along your arch. Metal clasps attach to healthy teeth to keep your prosthetic in place.
Full Dentures
Using the same materials as a partial denture (minus the metal clasps), a full denture replaces an entire row of teeth. Held into place using your natural suction, this prosthetic sits on top of the gums to create a new and aesthetically pleasing smile. Individuals with full dentures often decide to purchase denture adhesive to add another layer of security to keep prosthetics in place.
Implant Dentures
Patients who are eligible for dental implants should strongly consider implant dentures. This is by far the best option for tooth replacement, as the teeth are secured by prosthetic teeth roots in the gum line rather than just resting on the gums. Implant dentures not only improve oral and overall health, but they mimic the natural tooth structure and make it easier to eat a nutritious diet. They also help to improve speech and are capable of lasting 30 years or longer with regular care and maintenance.
Benefits of Dentures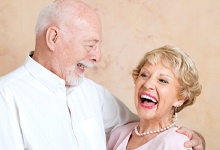 Dentures in Palm Beach Gardens are considered one of the most reliable forms of tooth replacement available. No matter which style you choose, you can expect tremendous benefits, such as:
Greater confidence now that your prosthetic allows you to eat, speak, and smile with ease
The opportunity to maintain a healthier, nutrient-rich diet
The ability to speak with greater clarity
A way to maintain a more youthful appearance because of their ability to fill out your cheeks and prevent a sunken look
Longer-lasting prosthetics
Denture FAQs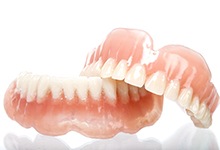 Are you receiving your very first denture? Smile Solutions Dentistry is prepared to answer any questions you may have, whether you're receiving a partial, full, or implant denture to rebuild your smile and expand your diet. Below, you can read through a handful of the most common questions we hear at the office. Of course, you're always encouraged to call directly or pay us a visit in person if you'd like to learn more about your future tooth replacement!
How long will I have to wait to get dentures after teeth are pulled?
After teeth are pulled, it takes about six to eight weeks to receive a denture. This allows the mouth to heal fully and ensure the denture fits as effectively as possible. However, the denture you need can affect this wait time. If you choose to have an immediate denture placed, you can receive it the same day that your teeth are extracted. While this means you can eat and smile sooner, the shape of your mouth and gums may change. The dentist also won't have a chance to preview the fit of the denture first.
Can I sleep while wearing my denture?
Our office recommends taking your denture out before you go to sleep. Not only does this give your mouth a chance to rest, but it reduces the risk of developing oral sores that are painful and can interfere with your ability to use your prosthesis. When you first receive your denture, you'll be told to wear it for a full 24 hours to help your mouth adjust, including while you sleep. Once you finish this period, you should start taking it out before bed. This will allow proper circulation in the gum tissue, prevent soft tissue irritation, and slow the speed of ridge resorption.
Does getting a denture hurt?
If teeth need to be extracted beforehand, you will likely have to manage some mild discomfort after that treatment is complete. This can be easily done with prescription painkillers over the next few days after treatment. Even if you don't need to have teeth removed, wearing your new denture for the first few days will cause some minor irritation as your mouth adjusts to the appliance. Discomfort levels can vary from person to person and switching from an old denture to a new one can cause this adjustment period to take longer. If you feel that your discomfort is not improving, call our office and we'll see if any modifications need to be made.
How do I make dentures affordable?
If you have a dental insurance plan, you'll find that they are likely to provide partial coverage since they are often deemed a medical necessity. Check your benefits with your provider ahead of getting your new restoration. If you have Medicare or Medicaid, you can also expect reasonable coverage. Not only is our office in-network with most dental insurance plans, but we offer third-party financing through Lending Club to make your dentures more affordable!
Questions? Book a Visit Today!
Your comprehensive, caring, and high-quality dentist is Dr. Patel. To learn more about dentures and whether or not they are the ideal solution for your smile, you are invited to contact us or request an appointment online today!