Meet Palm Beach Gardens Dentist
Nirav Patel, DMD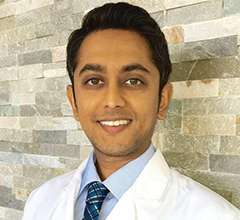 Dr. Nirav Patel was born and raised in South Florida. He completed his undergraduate studies at the University of Florida where he received a Bachelor of Science degree in Interdisciplinary Studies with a concentration in Biology. His doctorate degree was obtained at the University of Pittsburgh School of Dental Medicine.

After dental school, Dr. Patel moved to Flagstaff, AZ to complete a 1-year Advanced Education in General Dentistry residency program to further enhance his dental training. While there, Dr. Patel attended numerous workshops to supplement his dental education. The versatility of his residency training combined with his experience working in different types of private practice and public health dental settings has enabled him to provide a broad spectrum of the latest treatment modalities to his patients. His focus is to spend time with his patients and provide individualized care tailored to each patient's goals and needs. He believes that the key to good patient care is listening and relating to each of his patients on a personal level.
Dr. Patel spends much of his free time in dental continuing education in order to provide the highest level of care to his patients by utilizing the newest techniques and technology. When he is not practicing dentistry, Dr. Patel enjoys traveling to new and exotic locations, volunteering at local events, and spending time with his friends and family.
More to Explore