Meet Your Dentist—West Palm Beach, FL · Palm Beach Gardens, FL
Get to Know Dr. Nirav Patel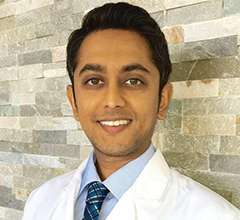 Dr. Nirav Patel was born and raised in South Florida. His main goal with each patient is to spend plenty of time with them and provide individualized care tailored to each person's unique goals and needs. He believes that the key to top-quality dental care is listening and relating to each of his patients on a personal level. He's thrilled that he gets to serve the communities of West Palm Beach and Palm Beach Gardens on a daily basis, and he hopes to meet you and give you the smile of your dreams very soon. You can learn a little more about his background by reading on below.
Where did you study dentistry?
After graduating from dental school, Dr. Patel moved to Flagstaff, AZ to complete a 1-year Advanced Education in General Dentistry residency program to further enhance his dental training. While there, he attended numerous workshops to supplement his dental education. The versatility of his residency training combined with his experience working in both private practice and public health settings has enabled him to provide a broad spectrum of the latest treatments to his patients.
These days, Dr. Patel spends much of his free time completing continuing education courses in order to learn about the newest techniques and technology so he can provide the highest level of care to his patients.
What do you like to do outside of the office?
When Dr. Patel is not practicing dentistry, he enjoys traveling to new and exotic locations, volunteering at local events, and spending time with his friends and family.
More to Explore