Dentist - West Palm Beach, FL
Just a short drive from West Palm Beach and Palm Beach Gardens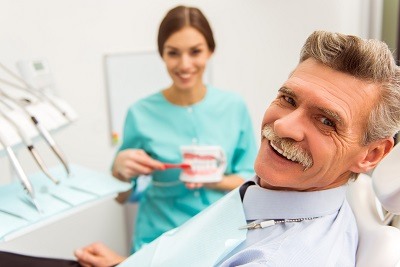 At Smile Solutions Dentistry, we are happy to offer gentle, effective dental care for all of our patients. Conveniently located in Palm Beach Gardens, Nirav Patel, DMD and his caring dentistry team are here to help whenever patients need us most, and our office is easily accessible for patients from a variety of surrounding communities. We serve numerous local areas, and we would love the opportunity to see you and your family in our state-of-the-art dental office. If you're new to the area or looking for a new dental office to call home, contact our team to schedule your appointment today.
Where to Find Us
Smile Solutions Dentistry strives to make dental care convenient for all of our patients. We are open Monday through Friday from 10 am to 6 pm, so busy families can easily visit us after work or school. Our team can also schedule a block of dental appointments, so your whole family can visit our office on the same day. Our office is conveniently located at 10130 Northlake Blvd. in West Palm Beach near Pineapple Park and the Club at Ibis.
Directions for Loxahatchee
Form Loxahatchee, take Coconut Blvd. north for about three miles. Then, take Northlake Blvd. east to the Shoppes at Ibis.
Directions from Palm Beach Gardens, Ancient Tree, & Avenir
From Palm Beach Gardens, Ancient Tree, or Avenir, drive southeast on Diamond Head Way and take a left on General Drive. Turn right on Avenue of the Masters and follow it for about one mile. Then, turn left on Ryder Cup Blvd. for half a mile, and take Northlake Blvd. west to the Shoppes at Ibis.
Directions from Westlake
From Westlake, head north on Seminole Pratt Whitney Rd. for five miles. Turn east on Northlake Blvd. and proceed to the Shoppes at Ibis.
Caring Dentist & Team
Dr. Patel and the entire Smile Solutions Dentistry team are dedicated to providing skilled dental care to every patient in an environment free from stress and discomfort. We welcome patients of all ages. Unlike a traditional children's dental office where adults feel uncomfortable or an adult dental office where may kids feel unwelcome, our office will make every member of the family feel at home. This is due in large part to the fact that our team members go above and beyond to make patients feel welcome, we always take the time to answer your questions, and we treat you with the attention and respect you deserve.
Comprehensive Dental Care
We offer a wide range of dentistry services to meet any patient need. From basic dental checkups to the most advanced procedures like dental implant tooth replacement, we are here to help keep our patients smiling. We also offer same day emergency dentistry services for patients in need of urgent dental care. Whatever your oral health need, Dr. Patel and the caring Smile Solutions Dentistry team will help you receive the necessary services. If we cannot provide safe, effective treatment, we are happy to work with local specialists to deliver the quality care you deserve.
Dental Services at Smile Solutions Dentistry
Everyone at Smile Solutions Dentistry takes great pride in being able to offer everything you need for your teeth and gums under one roof. Our services include:
To schedule an appointment with your dentist in Palm Beach Gardens, contact Smile Solutions Dentistry today!