Dental Crown & Bridge Restorations for West Palm Beach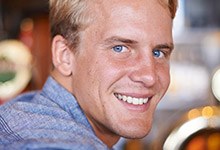 Dental crowns and fixed bridges are two of the most commonly recommended restoration options. Dental crowns make it possible to preserve even severely damaged or decayed teeth, and dental crown-supported fixed bridges are a permanent, natural looking and feeling solution that can replace one to three consecutive missing teeth. Dr. Nirav Patel is skilled in numerous restorative dentistry services, including crown and bridge treatments. If you've experienced decay or tooth loss, contact Smile Solutions Dentistry of West Palm Beach to schedule a consultation. We welcome patients from Palm Beach Gardens and other nearby communities as well.
Dental Crowns
Dental crowns fit over the top of damaged teeth, allowing our team to preserve natural root structure and restore form and function to decayed or broken teeth. The process requires two visits. During your first appointment, our team prepares the damaged tooth to receive the crown by removing decayed or damaged structure. We'll take sets of impressions used to craft a custom dental crown to fit your smile. These impressions are sent to our trusted dental lab where a personalized restoration is crafted to our precise specifications. While the custom crown is being made, patients wear a temporary restoration we craft in our office. Made from a less durable material than the custom restoration, these temporaries protect prepared teeth until patients return to have their final crown placed.
Dental Crown & Bridge Tooth Replacement
Dental Crown and bridge tooth replacement, sometimes referred to as a fixed bridge, is made up of two dental crowns that support a replacement tooth or teeth. Crowns and bridges are placed as a single unit. In order to replace missing teeth, healthy teeth are prepared and fitted to receive dental crowns. A crown and bridge prosthetic is crafted in our dental lab, and once it's complete, patients return to have the replacement teeth cemented into position, completing their improved smile.