Cosmetic Dentistry for Palm Beach Gardens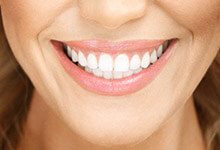 Many patients think of cosmetic dentistry as an unnecessary luxury, but according to a recent employment survey, people with more beautiful smiles are twice as likely to get hired or promoted. Additional research revealed that patients with appealing smiles were perceived as smarter, healthier, and more attractive by their peers. If your appearance affects both your personal and professional life, it starts to sound much more like a necessity than a luxury. At Smile Solutions Dentistry, we offer a wide-range of cosmetic dentistry to transform any smile. Whether you're interested in brightening your teeth or are in need of a full makeover,cosmetic dentist, Dr. Nirav Patel offers personalized treatment plans to give you the celebrity smile you've only dreamed of. We are conveniently located in Palm Beach Gardens, and we welcome patients from other nearby communities.
Professional Teeth Whitening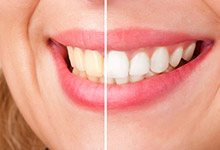 Teeth whitening is one of the most popular dental services available. The foods and drinks we consume on a daily basis and the simple act of aging all contribute to staining and discoloration of smiles over time, so it's no surprise that grocery store and pharmacy aisles are filled with products that promise dazzling results. Unfortunately, most of these whitening rinses, pastes, strips, and gels don't deliver. Professional whitening products offer patients predictable, beautiful results. Here in Palm Beach Gardens, we provide patients with take-home whitening kits. At-home teeth whitening gradually brightens teeth over the course of about two weeks. Our take-home whitening kits include custom application trays and professional whitening gel for optimal comfort and effectiveness. At-home teeth whitening is also preferable for patients with sensitive teeth or gums.
Tooth-Colored Fillings
Patients with decay, minor cracks, or chips in teeth have relied on silver-colored amalgam fillings to restore their damaged smiles for many years. These predictable, durable restorations offer patients structurally sound results that last. However, the cosmetic flaw of gray or silver-colored restorations, the sensitivity to changes in temperature, and the likeliness that these fillings will break away from teeth over time make an alternative material appealing. Composite resin filling materials are more than just cosmetically superior. The composite material can be shaded to perfectly match the natural dental structure. Sometimes referred to as direct fillings, the resin is applied and shaped directly onto the damaged tooth, allowing our team to preserve the maximum amount of healthy dental structure and creating a more solid bond with tooth. Because there is no layer of dental cement between the tooth and filling, it is less likely to move or break away from the tooth over time. Once the filling is shaped in place, a curing light is used to harden the material. Tooth-colored fillings look and feel 100% natural.
Porcelain Veneers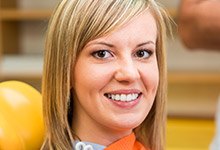 For patients with numerous smile flaws, the time and effort involved in undergoing numerous treatments to reveal a picture-perfect smile may seem overwhelming. With porcelain veneers, our team can conceal any number of smile flaws quickly with little discomfort or lost dental structure. Veneers fit over the surface of teeth, covering chips, stains, cracks, and gaps in teeth. Before veneers are placed, a small amount of enamel is removed from the surface of teeth. This allows the thin, eggshell-like veneers to fit seamlessly into the patients' transformed smiles.
Learn More About Porcelain Veneers
All-Ceramic Dental Restorations
Restorations like crowns, inlays, and onlays can be crafted from a number of materials, including gold, silver, and porcelain bonded to metal. While these materials create durable and long-lasting improvements, they don't provide natural-looking results. All-ceramic smile restorations look and feel completely natural, allowing patients to smile confidently. These high quality restorations are placed in two steps. During an initial appointment, our cosmetic dentist and team prepares damaged teeth to receive the restoration, removing damaged dental structure. We collect impressions that are then sent to a trusted dental lab where a custom restoration is created. While the restoration is crafted, patients will wear a temporary that's provided by our office. Once the custom crown, inlay, or onlay is returned from the lab, patients exchange the temporary for the permanent restoration during a second appointment. The entire process takes a few weeks, but the results are cosmetically brilliant. No one will know your smile was ever less than flawless!