Dental Implants in Palm Beach Gardens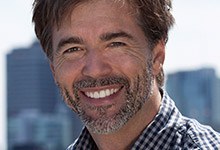 Patients missing one or more teeth have commonly relied on tooth replacement solutions that restored the visible portions of teeth without replacing the lost tooth structure. While prosthetics like crown and bridge, partials, and full dentures all offer patients increased dental function and renewed self-confidence, they don't return the underlying structure of smiles, which means that patients lack comfort, stability, and the adequate stimulation to retain bone and gum tissue density. Dental implants are the ideal tooth replacement solution for many patients because they restore the entire smile from the roots up.
At Smile Solutions Dentistry, Dr. Nirav Patel has years of training and experiencing helping patients replace any number of missing teeth with implant-supported dental prosthetics. We welcome patients from Palm Beach Gardens, Loxahatchee Groves, and beyond to schedule a dental implant consultation to find out more about this innovative dental service.
Dental Implant Placement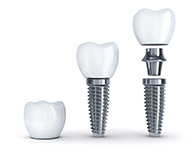 Dental implants replace missing teeth in a two-step process. The first step is the surgical placement of titanium implant posts below the gum line. This minor surgical procedure begins with a small incision in the gums. The implant that resembles a small screw is placed into the gums. Over the course of several months, gum tissue heals, and the supportive alveolar bone regrows, fusing to the dental implant in the same way it naturally bonds with tooth roots. This process is known as osseointegration and it is the key to dental implants' 98% success rate. Once the implants are fully fused to the jawbone, patients will return to our Palm Beach Gardens office to have a restoration attached. Dental implants can be used to replace any number of missing teeth with a single crown, bridge, partial or full denture connected to the underlying implants. Partial and full dentures can be permanently connected to the implants or removable, depending on patient preference.
Benefits of Implant-Supported Restorations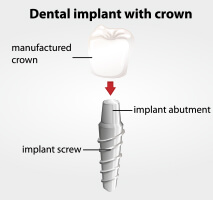 The stimulation provided by the prosthetic tooth root keeps underlying jawbone and gum tissue healthy, preserving facial shape and structure.
Implant-supported crowns and bridges do not require the removal of the healthy dental structure in order to replace missing teeth. Rather than being supported by crowns over surrounding teeth, one or more implants provide the necessary anchor for these restorations.
Implant-supported dentures return up to 70% of chewing ability compared with traditional dentures for improved oral and overall health through a well-rounded diet.
Looking and feeling more like natural teeth, implant-retained prosthetics can be cleaned and maintained as though they were the patient's own, healthy teeth.