Dental Implants – West Palm Beach, FL
Replacing Your Tooth from the Root Up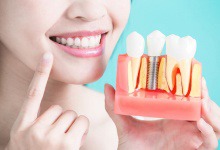 Patients missing one or more teeth have commonly relied on tooth replacement solutions that restored the visible portions of teeth without replacing the lost tooth structure. While prosthetics like dental bridges and dentures offer patients increased dental function and renewed self-confidence, they don't return the underlying structure of smiles. As a result, patients lack comfort, stability, and jawbone preservation. Dental implants in West Palm Beach are the ideal tooth replacement solution for many patients because they restore the entire smile from the roots up.
At Smile Solutions Dentistry, Dr. Nirav Patel has years of training and experiencing helping patients replace any number of missing teeth with implant-supported prosthetics. We welcome patients from Palm Beach Gardens, Loxahatchee Groves, and beyond to schedule a dental implant consultation and find out more about this innovative dental service.
Why Choose Smile Solutions Dentistry for Dental Implants?
Dental Implant Surgery Performed In-House
Fair Prices Without Surprises
Latest Dental Implant Technology Used
What Are Dental Implants?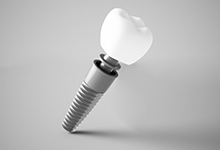 A dental implant is a tiny titanium post that is surgically placed into the jawbone. It essentially acts as a replacement root for a lost tooth. Because titanium is biocompatible, your jawbone will actually grow around the implant until it basically becomes a part of your own anatomy. Once this process is complete, Dr. Patel will restore your implant with a dental crown, bridge, or denture that is 100% custom-made.
As the only tooth replacement that replicates the entire structure of teeth, dental implants in Palm Beach Gardens are the most comprehensive solution for missing teeth. That's why the majority of dentists, including Dr. Patel, will recommend dental implants for most eligible patients.
The 4-Step Dental Implant Process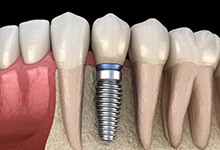 Getting dental implants requires a multistep process that occurs over the course of several months to a year. However, the unmatched benefits and quality make this solution well worth the wait. After all, dental implants can last 30 years to a lifetime with proper maintenance. Many dentists have to refer patients to an outside oral surgeon for implant placement surgery, but Dr. Patel can perform this step of the process right here in our office. Everyone's journey will look a little different, but here is a basic outline of the dental implant process.
Initial Dental Implant Consultation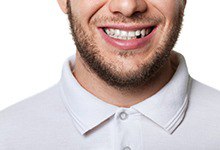 In most cases, if you have good oral and general health, you're a candidate for a dental implant, but we'll still need to perform a thorough consultation. Besides a visual examination, we'll also need to review a CT scan of your oral structures. This is necessary to ensure there aren't any hidden issues beneath the surface, like bone loss or periodontal disease. Based on the results of the consultation, we may recommend additional treatments before your placement surgery, like bone grafting or gum disease therapy.
Dental Implant Surgery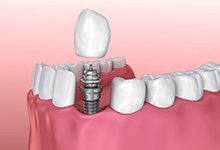 After you've healed from any previous treatments, you're scheduled for your implant placement surgery. We can perform this step in-office to save time and money. Sedation or anesthesia is used to ensure you're comfortable while your gum tissue is opened to expose your jawbone. A small hole is drilled into your bone to insert the post. Your gum tissue is sutured closed, and you'll begin the healing process.
Dental Implant Osseointegration/Abutment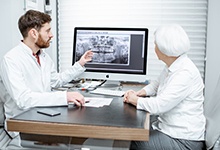 With the implant post acting as a root, it stimulates your jaw to promote bone growth. Your jaw will fuse to the post through a process called osseointegration. This can take several months, but it is time well spent to ensure your new smile has a stable foundation to last for decades.
Once your jawbone has healed, you'll need a second minor surgery to attach an abutment to your post. Your gum tissue is opened to expose the implant and secure the abutment. This is a special fixture that acts as a connector piece between your implant and the restoration. It takes about two weeks for your gum tissue to heal around it. While you're recovering, the dental lab will be creating your restoration.
Delivery of Dental Implant Restorations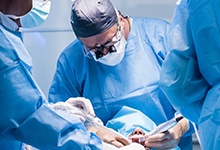 The final step in your treatment plan is the placement of your restoration, which we also handle in our office. We take a digital impression of your mouth to recreate the tooth you've lost. It's made of all-ceramic material to mimic your tooth. It is crafted to meet your exact specifications to blend in when you smile. It will also be durable to withstand the pressure of regular use.
The Benefits of Dental Implants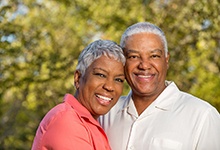 With over 500,000 dental implants placed every year and millions of satisfied patients, this revolutionary treatment is quickly becoming the preferred tooth loss solution. Replacing your tooth from the root up with dental implants offers many important benefits that you simply can't achieve with dentures or dental bridges. They have the potential to dramatically improve your health, confidence, and quality of life, which is why dentists everywhere consider them the gold standard of tooth replacement.
Day-to-Day Benefits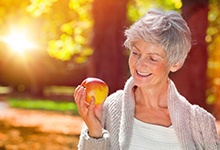 Health Benefits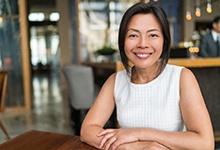 Long-Term Benefits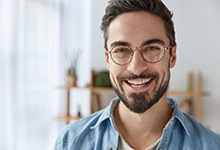 Who Dental Implants Can Help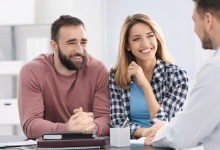 Thankfully, dental implants are extremely versatile, which means they can be utilized to replace any number of teeth. This also means that they are able to be paired with either a single crown, bridge, partial or full denture. The option you choose will be based on your specific needs as well as the recommendations provided by our office. To learn how the process works for each treatment option, you can read more below!
Who is a Good Candidate for Dental Implants?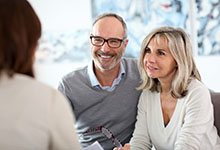 More people are eligible to receive dental implants than ever before thanks to continuing advancements in the dental field, but that doesn't mean there aren't certain qualifications you'll need to meet before you can receive them. For example, you should:
Have good oral health (particularly healthy gums so proper healing can occur)
Good overall health (certain preexisting conditions can increase your risk for implant failure)
Sufficient bone volume for the implants to integrate into (even if you don't have enough bone volume, bone grafting can be performed to make implants viable)
If you are currently a smoker or use tobacco in any form, you should discontinue its use ahead of treatment and keep it that way to ensure the implant can properly heal inside of your jaw. This is because tobacco use is the leading cause of implant failure.
Missing One Tooth
For a single lost tooth, we can place one dental implant post into the socket and then restore it with a personalized dental crown. This crown is made from porcelain that's been color-matched to blend in with your existing smile, ensuring no one other than you and our office knows that you had a dental implant placed.
Missing Multiple Teeth
Implant bridges do not require the removal of the healthy dental structure in order to replace missing teeth. Rather than being supported by crowns over surrounding teeth, one or more implants provide the necessary anchor for these restorations. Dental implants are placed on either side of the gap, and a custom bridge is made to sit on top of the implants. In some cases, a single dental implant can hold a two-crown bridge, but this largely depends on your existing bone structure.
Missing All Teeth
Patients who are missing all their teeth can opt for an implant denture, whether it's a partial or full denture. With this type of tooth restoration, it can return up to 70% of your chewing ability compared to traditional dentures for improved oral and overall health through a well-rounded diet.
Looking and feeling more like natural teeth, implant dentures can be cleaned and maintained as though they were the patient's own, healthy teeth. No longer do you have to keep it contained in water to prevent damage or warping of any kind. This means you can expect your tooth replacement to last for longer.
Understanding the Cost of Dental Implants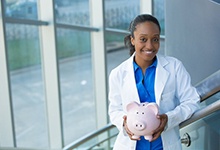 You've heard about the benefits of dental implants, but there's one thing standing in your way of scheduling your first consultation. You're concerned about their price. It's no secret they are initially more expensive than other options, but they are actually more cost-effective long-term. At Smile Solutions Dentistry, we provide the solutions you need for affordable dental implants without compromising their success or aesthetics. Dr. Patel will not only provide the complete dental implant process in-house from start to finish, but he will also create a custom estimate and discuss your payment options to rebuild your smile without breaking the bank.
To learn more about the cost of dental implants in West Palm Beach, review the information below and contact us with any additional questions.
Preliminary Treatments & Dental Implant Surgery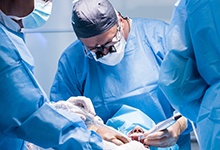 While not all patients require preliminary treatments, you may need periodontal therapy, tooth extraction, or bone grafting before receiving your dental implants. During your initial consultation, your implant dentist in West Palm Beach will review your smile before recommending whether you need preliminary treatments, which will be an added cost, or if you are free to move forward with your dental implant surgery.
Even if you do not need the additional services to ensure a successful environment for your dental implants, the implant surgery will have its own fee. Fortunately, because Dr. Patel performs the surgical procedure in-house, you will not need to worry about a separate fee being paid to an outside specialist. Of course, you will need to consider the added cost of anesthesia and sedation.
The Parts of Your Dental Implant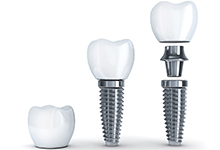 The parts of your dental implant also play a part in the overall cost of your dental implants, and here's how:
How many dental implants you will need – Naturally, it is much cheaper when there is only one tooth to replace, as we will need a single tooth dental implant. If you have multiple missing teeth, at least two dental implants are used, and if you have a full arch of missing teeth, between 4 and 8 dental implants will be required.
The type of restoration you will need – This is solely based on how many teeth are missing. Dr. Patel will have a customized crown, bridge, or denture created to complete your smile.
Materials – The most common materials used to create your implant posts are titanium and zirconia.
Brand/Manufacturer – Patel works closely with particular brands and manufacturers when it comes to dental implants. If you want a quality prosthetic that will last a long time, it's best to work with higher-quality materials and brands. Remember, cheaper isn't always better when it comes to replacing your missing teeth.
How Dental Implants Can Save You Money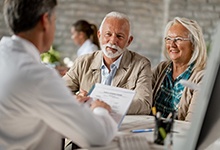 The cost of dental implants is worth it because they are actually more affordable long-term. They have over a 95% success rate and are proven to last for several decades with the right implant dentist in West Palm Beach and aftercare. You should never need to worry about paying to have them replaced. Not to mention, they can also lower your overall dental expenses. The implant posts stimulate your jaw to encourage new bone growth. This gives any remaining natural teeth the support they need to stay in place to reduce your risk of tooth decay, gum disease, and additional tooth loss. Also, you won't need to bother paying for regular adjustments and replacements, dental adhesives, and special cleaning supplies that are often required with other, more traditional tooth replacement solutions.
Does My Dental Insurance Cover Dental Implants?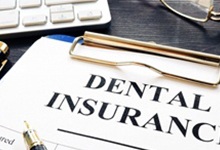 Unfortunately, most insurance companies will not pay for the entire treatment, but they may cover certain aspects of it depending on your specific policy. We will work on your behalf with your insurance company to reduce the amount you need to pay out-of-pocket. It is possible that they may agree to pay for your preliminary treatments, consultation, and even your restoration. No matter their decision, you can trust that our team at Smile Solutions Dentistry will be here to make the process as stress-free as possible.
Making Dental Implants Affordable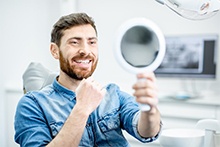 Should you have a remaining balance after filing with your dental insurance company, we will work to keep your dental implants in West Palm Beach affordable. We can do this by working closely with LendingClub. This third-party flexible financing solution makes it possible to break up the cost of your treatment into monthly installments, allowing you to better manage and budget for your treatment along the way.
Dental Implant FAQs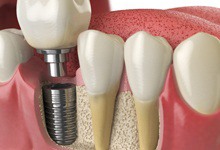 Each of your teeth is an important part of the whole. Therefore, even the absence of one tooth can cause serious issues. The good news, though, is that no matter what number of teeth you may have missing, receiving dental implants is the right choice to make. Still, you likely have some questions about the procedure that you'd like addressed. Therefore, we've compiled four of the most frequently asked questions about the dental implant procedure along with the expert answers. Read on to be better informed, and then contact us at Smile Solutions Dentistry to schedule your first visit with Dr. Patel.
Will Getting Dental Implants Hurt?
For many people, the thought of visiting a dentist stirs feelings of anxiety for fear of having to endure a painful experience. Thankfully, with the advances in pain management, there is no need to fret about receiving dental implants in West Palm Beach. Before we place the fixture, we'll administer anesthesia to make sure you have a painless procedure.
Then, to help you manage any post-surgery discomfort, Dr. Patel will either advise you to take over-the-counter pain relievers, or he'll prescribe medication, so you won't have to endure any uncomfortable sensations throughout the healing process.
How Long Will My Dental Implants Last?
Before investing your time, energy, and money into a dental implant, you want to know that you're making a worthwhile decision. While other methods of tooth replacement usually require repair or a new restoration every six to 15 years, with dental implant placement, your new smile could last 30 years up to a lifetime. The key, though, is for you to follow the maintenance instructions Dr. Patel provides.
Here are three tips to keep in mind to maximize the longevity of your new smile:
Brush and floss your teeth at least two times a day.
Avoid such habits as eating hard nuts, candy, and ice, and biting your fingernails.
Be sure to visit your dentist every six months for cleanings and examinations.
Are Dental Implants Right for Me?
A misconception about dental implant placement is that it's only for elderly adults. The reality is that it's an avenue for any person with missing teeth to have them replaced and their lifestyle restored to normal. When you visit our office, your dentist in West Palm Beach will carefully examine you to determine how much healthy jawbone remains, the number of teeth missing and the condition of your oral health in general.
Based on his findings, Dr. Patel will make recommendations on how to best proceed. For example, if you don't have a sufficient amount of jawbone material, he may suggest a bone grafting procedure, which is the removal of bone from another part of your body or from an outside source, so it can help to fortify your jawbone to support dental implant insertion.
How Long Will the Dental Implant Process Take?
Dental implant placement is an involved process that typically takes months to complete. That's because to see the best results, the body must be given time to adjust to each stage of the procedure. Over a period of three to six months, the natural bone in your mouth will fuse with the dental implant through a process called osseointegration. After you've progressed adequately, we'll add an abutment, which is another titanium piece that allows a final restoration to be securely attached to the implant.
Because each patient is different and has unique needs, the only way we can determine an estimated time for your procedure is to visit us for a consultation. Once Dr. Patel becomes familiar with your situation, he can develop a restoration plan with all the details you need.