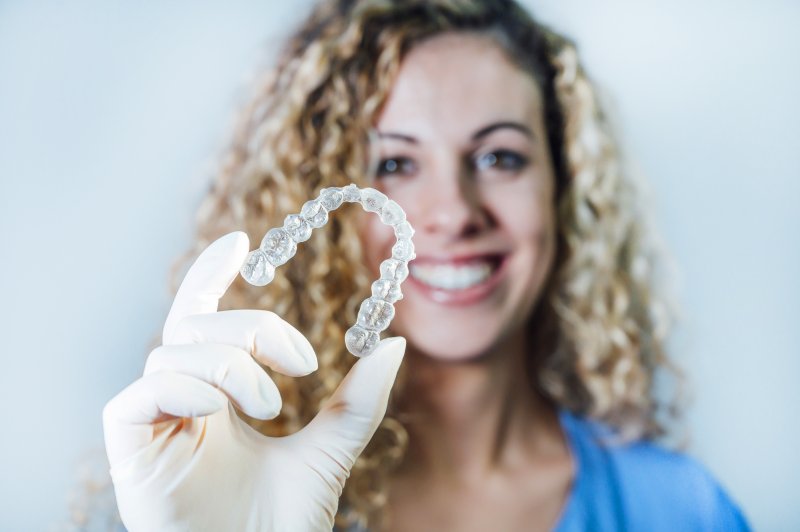 Since it was first created in 1997, Invisalign has helped over 8 million people achieve the smile of their dreams. Even better, their revolutionary approach to braces allows patients to undergo fast, virtually invisible treatment in an average of 12 months. So, it is not surprising that it has a whopping 96% satisfaction rate! However, to reap the benefits that Invisalign offers, it is important to take care of the aligners throughout your treatment. Read on for four habits to avoid with Invisalign in Palm Beach Gardens.
Habit #1: Drinking Anything But Water While Wearing Them
Invisalign's clear aligners are virtually undetectable; until you have to pull them out of your mouth in front of your friends and family at dinner. To avoid this unpleasant experience, many patients bend the rules by drinking coffee, wine, and soda with their aligners. However, this can cause the aligners to warp and contribute to plaque build-up on your teeth. Also, the trays can stain, which can give your teeth a yellow, frail look. Therefore, make sure to stick with water or discretely remove your aligners before drinking any other beverages.
Habit #2: Forgetting to Put Them Back In
When Invisalign introduced a teeth-straightening treatment option that was both invisible and removable, the braces game changed forever. In fact, it is one of the many reasons over 8 million patients have chosen to use Invisalign over the years. However, for them to remain effective, they must be worn for at least 22 out of the 24 hours of the day. Unfortunately, treatment times are often extended past their 12-month average because patients forget to put them back in after eating, drinking, or brushing. To prevent this from happening to you, make sure to always pop them back in after you have completed your oral hygiene routine.
Habit #3: Putting Them Back on Before Brushing and Flossing
To prevent food particles and bacteria from being pressed and held against your teeth, you must brush and floss thoroughly before putting them back on. This can prevent tooth decay and cavities from occurring while also ensuring your aligners do not become a breeding ground for bacteria. That way, your teeth can stay in pristine condition throughout the teeth-straightening process.
Habit #4: Neglecting to Clean Them
With metal braces, patients have to worry about complex flossing routines and diligently scrubbing around every wire and bracket. Although Invisalign's clear aligners are low maintenance in comparison, they do require some care to ensure they deliver you a healthy, beautiful smile. Therefore, make sure to rinse them each time they are removed and soak them in a specialized cleaning solution each evening.
By avoiding the above four habits and taking care of your aligners, you can join the millions who have received fast, effective treatment with Invisalign. That way, by this time next year you can flash a straight, bright smile that turns heads for all the right reasons!
About the Practice
Led by Dr. Nirav Patel, the team at Smile Solutions Dentistry uses their extensive experience to provide exemplary, personalized dentistry. At their convenient location, they use state-of-the-art technology and modern techniques to correct and perfect their patients' smiles. Whether you need a routine checkup, emergency assistance, or cosmetic dentistry, each staff member is ready to do whatever it takes to provide you a healthy, beautiful smile you are proud of. If you would like to speak with their team about using Invisalign to straighten your teeth, don't hesitate to visit their website or give them a call at 561-530-3764.