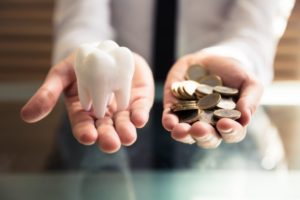 When it comes to replacing missing teeth, dental implants are the gold standard. They're the most comfortable, long-lasting, and lifelike way to restore your complete set of pearly whites! Unfortunately, dental implants cost more than other tooth replacement options like dentures and fixed bridges. Does dental insurance cover this life-changing treatment? Read on to find out what you can expect and discover what makes dental implants such a worthwhile investment in your smile.
Does Dental Insurance Cover Dental Implants?
Insurance coverage of dental implants varies between policies. You'll need to look closely at the details of your specific policy to see if your dental insurance covers dental implants. Unfortunately, in most cases, dental insurance companies won't cover the full amount of the dental implant procedure. However, they may pay for specific parts or portions of it. For example, your policy may not cover the cost of the implant post, but it will cover the replacement crown that's affixed on top of it. Or, if you need a preliminary treatment like a jawbone graft, your insurance may cover part of the cost.
Feel free to bring your insurance documentation with you to your dental implant consultation. They'll help you understand what's covered under your policy. Most practices offer third-party financing options like CareCredit or LendingClub that can help break down the cost of your treatment so it fits into your budget.
Can Dental Implants Save You Money in the Long Run?
Dentures and fixed bridges are traditional, quick, and affordable ways to regain your complete smile. However, as they wear down with use, they'll need to be replaced or repaired every five to 15 years or so. Not only is this inconvenient, but the costs will add up to be quite pricey over the years.
On the other hand, once your dental implants are in place, you can expect your investment to last. Unlike traditional tooth replacement options, dental implants fuse with your jawbone to become a permanent addition to your smile. With the proper care, you won't have to worry about replacing or repairing your new dental implants for a lifetime!
Invest in Your Smile, Confidence, & Health with Dental Implants
When you choose to rebuild your smile with dental implants, you're choosing to invest in your:
Oral health: Dental implants will help you maintain excellent oral health and avoid the expenses that come with treating issues like tooth decay, gum disease, and oral infections.
Overall wellbeing: Studies have shown that those with great oral health are at a lower risk of systemic health concerns and have lower cardiovascular care costs.
Self-confidence: Your self-esteem is priceless. With dental implants, you'll feel confident about your smile when laughing, taking photos, eating with family, and enjoying time with friends.
While dental implants may initially cost a bit more than options like dentures and fixed bridges, they are well worth the investment. Talk to your dentist today to see if this state-of-the-art tooth replacement is right for you!
About the Author
Dr. Nirav Patel of Smile Solutions Dentistry is committed to helping the smiles of West Palm Beach, FL and the surrounding communities stay happy and healthy for a lifetime. That's why he's outfitted his practice with state-of-the-art dental technology and offers advanced treatments like dental implants. He firmly believes that everyone deserves great oral health, so he takes a variety of dental insurances and offer low-interest financing plans. He'd be more than happy to help you understand your payment options and find a solution that works for you, so feel free to contact him via his website or at (561) 530-3764.