How Dental Implants Work – West Palm Beach, FL
Get a Complete Smile with Dental Implants
If you're ready to enjoy the next best thing to your real tooth, it's time to discover the benefits of dental implants in West Palm Beach, FL. A dental implant is unlike any other dental prosthetic because it replaces the entire structure of a missing tooth, including the root. A titanium implant post is surgically inserted into your jawbone to anchor your restoration in place. This requires a multi-step process for each component of your dental implant. We know the method is a bit unique. Here's how a dental implant works to replace your lost tooth.
Initial Consultation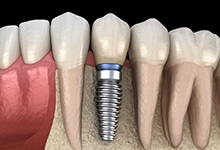 In most cases, if you have good oral and general health, you're a candidate for a dental implant, but we'll still need to perform a thorough consultation. Besides a visual examination, we'll also need to review a CT scan of your oral structures. This is necessary to ensure there aren't any hidden issues beneath the surface, like bone loss or periodontal disease. Based on the results of the consultation, we may recommend additional treatments before your placement surgery, like bone grafting or gum disease therapy.
Implant Placement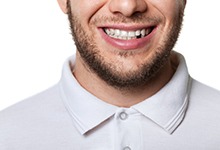 After you've healed from any previous treatments, you're scheduled for your implant placement surgery. We can perform this step in-office to save time and money. Sedation or anesthesia is used to ensure you're comfortable while your gum tissue is opened to expose your jawbone. A small hole is drilled into your bone to insert the post. Your gum tissue is sutured close, and you'll begin the healing process.
Osseointegration & Abutments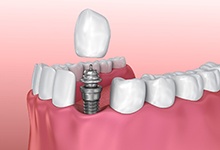 With the implant post acting as a root, it stimulates your jaw to promote bone growth. Your jaw will fuse to the post through a process called osseointegration. This can take several weeks, but it is time well spent to ensure your new smile has a stable foundation to last for decades.
Once your jawbone has healed, you'll need a second minor surgery to attach an abutment to your post. Your gum tissue is opened to expose the implant post to secure the abutment. This is a special fixture that acts as a connector piece between your implant and the restoration. It takes about 2 weeks for your gum tissue to heal around it. While you're recovering, the dental lab will be creating your restoration.
Restoration Placement
The final step in your treatment plan is the placement of your restoration, which we also handle in our office. We take a digital impression of your mouth to recreate the tooth you've lost. It's made of all-ceramic material to mimic your tooth. It is crafted to meet your exact specifications to blend in when you smile. It will also be durable to withstand the pressure of regular use.
Rebuild Your Smile Today
If you're ready to invest in your quality of life with a dental implant, it's time to take your first step toward a complete smile. Contact our office today to see if you're a candidate for dental implants. We look forward to permanently replacing your missing teeth.