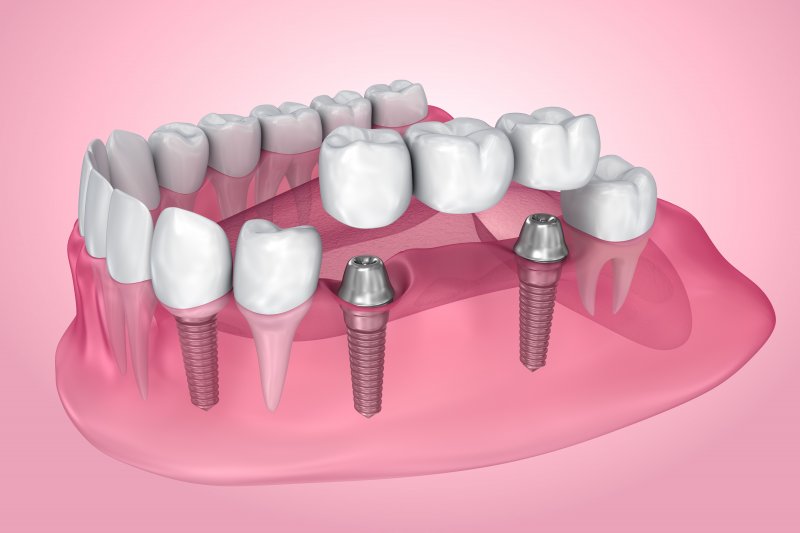 If you or someone you love has ever had to deal with a missing tooth, you've probably heard of dental implants in West Palm Beach. There's a good reason why dentists usually recommend them; after all, they'll let you eat all of your favorite foods without issue and they even prevent the jawbone from breaking down after your teeth are gone! But what if it's not just one tooth that's missing? Will you need to get a separate post for each one? Not necessarily! With good planning, your dentist can use multiple implants to support different kinds of restorations.
What If Several Teeth in a Row are Gone?
A single tooth can be replaced by a lone dental implant and crown, but for a wider gap, you might need a different kind of replacement. Dental bridges consist of at least three crowns and are used to replace multiple teeth in a row. Usually they're supported by the teeth right next to the empty space, but this can have unintended consequences over the long term; the teeth in question need to have some enamel removed, leaving them weakened and more vulnerable to decay
In many cases, however, a bridge can be supported by two dental implants instead. Not only will the restoration be stronger and more secure, but your oral health overall will be improved.
The bridge might be attached directly to the implant or an abutment, and it might be held in place by screws or cement; your dentist in West Palm Beach will decide what materials to use based on your situation.
What if Almost All of My Teeth are Gone?
But what if an entire arch is missing? Can you still get implants to replace all of them? The answer is yes; in fact, it can often be done with fewer than you think!
While traditional dentures are held in place with suction or an adhesive, they can also rest on implant posts. While it can sometimes take six or eight implants, to support the false teeth, in many cases four posts are more than enough.
Unlike their traditional counterparts, implant-retained dentures are secure in the mouth. They won't slip out of place while you're eating and talking. Furthermore, because implants prevent bone loss, you won't have to worry about the shape of your gums changing, which means you don't have to worry about having your dentures refitted in the future.
Of course, whether a bridge, a full set of dentures or another treatment is right for you depends on your situation. If you think dental implants are the solution for your tooth loss, schedule a consultation with your dentist; they'll examine your mouth, consider the factors involved, and let you know what your options are.
About the Author
Dr. Nirav Patel spends a lot of his free time continuing his dental education so that he can always ensure that he brings his patient the best care available with the latest techniques. He offers dental implants that can replace any number of teeth and allow you to eat, speak and smile normally again. To schedule an appointment at his practice, Smile Solutions Dentistry, visit his website or call (972) 869-2273.