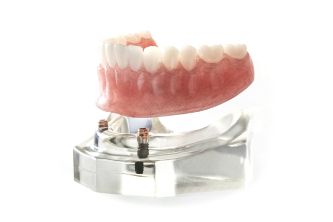 Did you know that the first dentures were created around 700 BC? These dentures were made of either human or animal teeth that were held together with thin gold wire. Although they were used for a surprisingly long time before people began using other materials, thankfully, modern dentures have come a long way since then! Today, an estimated 36 million Americans have used dentures to restore both their smile and self-confidence after tooth loss. And, although dentures today have improved a lot, they can still become loose over time and start to slip during meals or a conversation. However, there are 3 solutions that will help your dentures feel like new again – keep reading to learn more!
1. Denture Reline
The reason dentures feel so good when they're first made (but become loose over time) is that tooth loss causes the jaws to "shrink" over time.
After this happens, a reline improves the fit by adding material to the part of the denture that comes in contact with the gums to compensate for the changes in the jaw.
A denture can be relined multiple times to help prolong its life and make it fit more snugly, but, like almost all dental work, it will need to be replaced at some point.
2. New Denture
On average, dentures last about 5-10 years before they need to be replaced. At this point, replacement makes sense because of the daily wear-and-tear and bigger changes in the jaws that occur over time.
If you've had your denture for a while and think it may be time for a new one, a dentist can help you determine if it's truly "worn out" or if it can last a while longer.
3. Implant-Retained Denture
Another relatively recent option that's available is an implant-retained denture. This choice provides 2 main benefits over traditional dentures:
Implants will maintain the bone mass in your jaws and help to prevent further bone loss.
Traditional dentures stay in place through a combination of natural suction and adhesive. Implants act as much stronger anchors and provide significantly more support, so you can eat tougher foods and won't ever experience slipping.
Also, in some cases, upper dentures are adequately secure with suction and adhesive alone, so these patients only need implants in the lower jaw. 2-4 small implants per arch are all that's necessary.
Scheduling a consultation is the best way to have your individual needs evaluated so a dentist can recommend one of these 3 options. Regardless of which one is right for you, you'll be on your way to a better fitting denture in no time!
About the Author
Dr. Nirav Patel is a family dentist in West Palm Beach and also a native of South Florida. He always starts by closely assessing each patient's needs so he can recommend the best treatment to improve the fit and function of their dentures. If your dentures are loose and you want to know if one of these solutions is right for you, he can be contacted via his website or at (561) 530-3764.