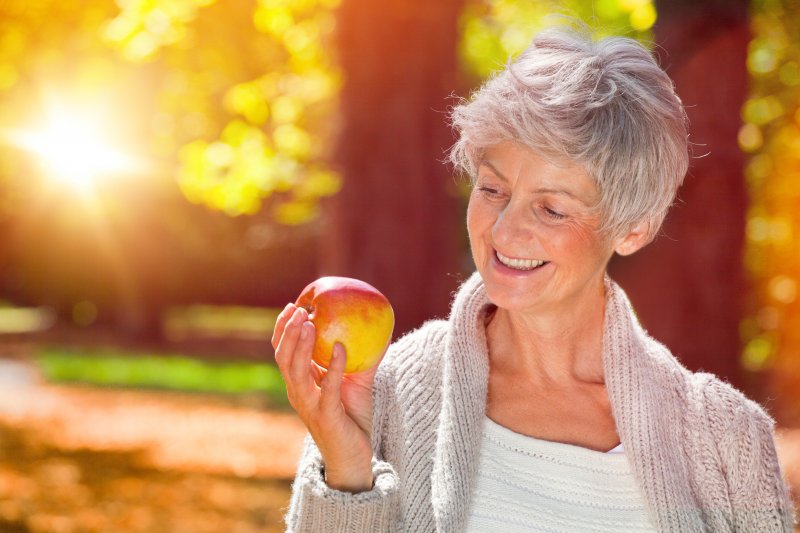 After getting dentures, you're probably excited and nervous to put your new teeth to use. There's one thing for certain – you'll be beaming with confidence the second you leave the dental office! Eating, on the other hand, won't be an easy task for you at first. Your facial muscles must adapt and adjust to the new sensations that come with dentures. Before you give up and say you'll never be able to chew again, try the following tips to make eating with dentures easier.
What Are Dentures?
Dentures are removable dental appliances that replace your missing teeth, custom-made to fit your mouth perfectly. Most clinics offer three different types of prosthetics:
Partial Dentures – These are a great solution for patients missing two or more consecutive or nonconsecutive teeth. Metal clasps are attached to healthy teeth to keep your prosthetic in place.
Full Dentures – A full denture replaces an entire row of missing teeth. Unlike partials, these are held in place using your natural suction. They sit on top of the gums to create a new smile.
Implant Dentures – These are by the far the best option for tooth replacement. The dentures are secured by prosthetic teeth roots rather than the gum line, making eating a whole lot easier to do.
How to Make Eating with Dentures Easier
Eating with dentures can be quite challenging at first. To help you master it more quickly, try the following tips:
Take It Easy
When wearing new dentures, you must start with a soft food diet. Pureed foods like applesauce, puddings, cooked cereals, scrambled eggs, and mashed potatoes are ideal because they don't require excessive chewing. For firmer foods, try cutting them into thin strips or small pieces before eating. And remember – chew slowly with both sides of your mouth.
Eat Carefully
If you need to bite down on food, make sure you use your canines instead of your front teeth. Otherwise, it can cause your dentures to move around and make your gums sore. As touched on earlier, it's important to distribute the food evenly on both sides of your mouth while you eat to help keep the dentures in place.
Keep Practicing
Have you ever heard the phrase 'practice makes perfect'? Well, it's certainly true when it comes to eating with dentures. The best way to adjust more quickly is simply with plenty of practice. As you make progress, it'll gradually become easier to chew.
Avoid Sticky, Chewy, and Spicy Foods
Eventually, you'll begin to feel more confident with eating. But no matter what, you should still avoid sticky, chewy, and spicy foods. They can easily damage your dentures or irritate your mouth, causing significant discomfort.
If you're having trouble eating with dentures, try the tips outlined above to make it easier. Ultimately, you must remember that time is your best friend right now. With enough practice, you'll be confidently enjoying your favorite foods once again!
About the Practice
At Smile Solutions Dentistry, we strive to provide truly comprehensive, exceptional, state-of-the-art services that are bound to exceed even your highest expectations. Our team will do everything possible to help you obtain a smile you'll proudly show off. Do you have new dentures? We're more than happy to assist and guide you through the adjustment process. For more tips to make eating with dentures easier, visit our website or call (561) 530-3764.