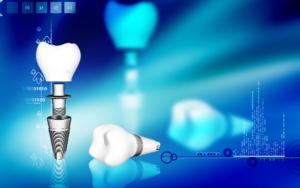 Are you tired of living with missing teeth? Do you miss eating your favorite foods, like steak? If other forms of dental prosthetics have failed to improve your quality of life, it may be time to try an alternative solution with implant dentures in Palm Beach Gardens. As the most predictable and reliable solution to replace missing teeth, you can benefit from an option that has over a 95% success rate. Before you make your decision, it is natural to be concerned about their cost. Although their price may be more than other options, they are actually the most cost-effective solution long-term.

Invest in Your Smile
The success of dental implants relies on the use of small titanium posts that are surgically placed into the jawbone. Since it is a biocompatible material, it will stimulate new bone growth in the jaw. This will allow it to fuse with the implant post to preserve your bone density. As a result, it may be able to remain in place for a lifetime. It will provide a secure and stable foundation for the replacement teeth, allowing you to regain the next best thing to your natural ones.
Contrary to common belief, dental implants can be used to replace an entire arch of missing teeth, providing the perfect alternative to traditional dentures. The arch is similar to that of a conventional one; however, instead of suction or an adhesive used to hold it in place, an average of 4 dental implant posts are used. This provides added security and stability when compared to more traditional options.
Depending on how many teeth are being replaced, your cost will vary.
Cost of Dental Implants
The amount you can expect to pay for your new smile will be determined by several facts, such as the materials used, the number of teeth being replaced, and your dental coverage. On average, you can expect to pay $5,000 to $6,000 to replace an entire arch; however, that price may increase or decease depending on your specific treatment plan.The amount you will pay will also include fees for consultations, x-rays and imaging, and anesthesia.
If bone grafting or tooth extractions are needed prior to the post placement, it can raise the cost as well. If you have dental coverage, it may help to cover a portion of the added expense for additional procedures.
Regain a Complete Smile
Although dental implants do cost more than traditional options, do not let that deter you from investing in your smile. They are more cost-effective long-term because you do not have to pay for new prosthetics over the years, adjustments, or expensive cleaning solutions. You will benefit from a solution that can potentially last forever to improve your quality of life and confidence.
About Dr. Nirav Patel
Dr. Nirav Patel strives to provide his patients with the highest level of care. In addition to general dentistry, he is always furthering his education to offer many areas of specialty, like dental implants. If you are ready to stop living with the challenges of tooth loss, schedule your consultation.