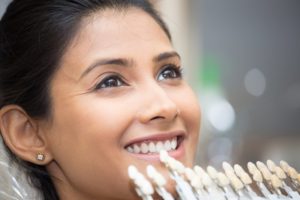 If you focus more on hiding your smile during conversations rather than letting it shine, it's time that you address your grin's imperfections. Whether they're chips, cracks or gaps in your teeth, cosmetic dental issues can severely impact your confidence and keep you from going to social events. Porcelain veneers in West Palm Beach could give you the quality of life you deserve and may even help with your social anxiety! Read on so you can find out what benefits veneers have to offer, and why they're right for you. 
What are Porcelain Veneers?
Porcelain veneers are thin shells bonded to the surface of your teeth to hide things like discoloration, chips, and other imperfections. They're a fast solution for correcting your smile and are strong enough to handle every task that your normal teeth would. With a completely natural look and feel, you'll never know the difference between them.
What Problems Can Porcelain Veneers Fix?
You can figure out whether or not porcelain veneers are the right solution for you by visiting your dentist. They'll examine your mouth and see how veneers could clean up your smile. Some common problems that they can improve include:
Cracked or chipped teeth
Gaps between teeth
Odd-shaped teeth
Discolored teeth
What Does the Process Look Like?
First, you'll want to schedule a consultation appointment with your cosmetic dentist in West Palm Beach to see how porcelain veneers may be able to enhance your smile. After you decide veneers are right for you, your dentist will take impressions of your teeth to craft custom-fitted. After they're crafted (this usually takes a week or so), you'll go back and have the veneers bonded onto your existing teeth. Once the procedure is finished and the veneers are placed, your smile will be instantly transformed. You don't have to dream about a straightened grin anymore because porcelain veneers can make it a reality.
About the Author
Dr. Nirav Patel focuses on spending time with his patients to get to know them and customize each of their cosmetic dentistry experiences. He spends most of his free time continuing his education so he can provide the highest, most up-to-date quality of care. Dr. Patel can leave you grinning from ear-to-ear with your new smile. To schedule your consultation for porcelain veneers, or for any questions, visit our website or contact us at 561-220-3448.