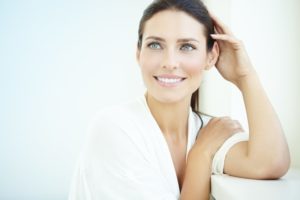 The new year can bring a lot of new and positive changes. If you're unhappy with the appearance of your smile, what better time than now to do something about it? In 2019, one of the resolutions you can make is to give yourself the smile of your dreams. Thankfully, your cosmetic dentist in West Palm Beach offers a wide-range of services to enhance and beautify your grin. Keep reading to learn how you can completely transform your smile for the new year.
Your Smile and Self-Confidence
Whether you know it or not, your smile can have a direct impact on your confidence and self-esteem. Many people hide their grin because of discoloration, chipped teeth, gaps, or other dental issues. However, all of these common problems can be fixed by an expert cosmetic dentist.
Studies have shown that having a bright, white, straight, and beautiful smile automatically makes people perceive you as more confident, youthful, successful, and trustworthy. Additionally, smiling causes a chemical reaction in your brain to release serotonin and endorphins (happy hormones). That's why it's important to have a smile you can be proud to show off. The more you flash your grin, the more confident you'll look and feel.
Achieve the Smile You've Always Wanted
Your dentist in West Palm Beach has a variety of cosmetic services to improve your smile. Check out some of the most popular ways you can transform your pearly whites:
Professional Teeth Whitening
Do you have a smile with stains or discoloration? Your dentist offers a professional at-home whitening kit to deliver you a whiter smile in the comfort of your own home. Compared to over-the-counter products, this whitening kit is safer, more comfortable, and more effective. This is by far one of the most popular ways that patients can dazzle in the new year.
Porcelain Veneers
Do you have chips, cracks, gaps, or deep stains in your teeth? Porcelain Veneers are thin shells of dental porcelain that can almost magically cover and conceal a wide-range of imperfections in your smile. With little discomfort and loss of your natural tooth structure, your dentist can give you a beautiful set of pearly whites.
All-Ceramic Dental Restorations
Blurring the lines between cosmetic and restorative dentistry, all-ceramic dental crowns can offer you the same strong restorations with the look and feel of your natural teeth. If you have severe tooth decay or weakened tooth structure, all-ceramic dental restorations can restore function back to your smile and provide you with confidence in your grin at the same time.
Does it sound like you could benefit from one or more of these services? Contact your dentist to get started on an amazingly transformed smile for 2019.
Meet the Dentist
Dr. Nirav Patel is a South Florida native with a passion for caring for smiles in his community. He takes pride in offering quality cosmetic services to boost his patients' confidence. He currently practices at Smile Solutions Dentistry, and he can be reached through his website or by phone at (561) 530-3764 for any questions.