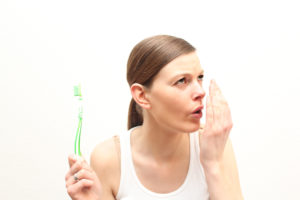 Did you know that Americans spend an estimated 10 billion dollars each year on breath-freshening products? If you have bad breath (also called halitosis), at least you're not alone! And it's no surprise that people are willing to spend so much money on solutions, since bad breath does a real number on your self-confidence and affects your personal and professional life. Fortunately, there are several things you can do to rid yourself of chronic bad breath, including seeing a family dentist for a professional cleaning. Learn more below about the causes and solutions to bad breath – and say goodbye to halitosis forever!
Why Do Some People Have Bad Breath?
Everyone knows that things like garlic, onions, and even your morning coffee can cause temporary bad breath, but what about chronic bad breath that seems to linger, no matter what you do?
There are several common culprits, including:
– Poor Oral Hygiene – If someone isn't brushing and flossing well enough, they're leaving odor-causing plaque and bacteria behind. And even if you do well with brushing, your toothbrush can only reach about 2/3 of the bacteria in your mouth. You have to floss each day to remove the other 1/3!
– Gum Disease – Gum disease affects almost 50% of Americans under 65. Over time, this common condition causes deep "pockets" of gum tissue to form around the teeth that are hard to access – even with good brushing and flossing. That causes plaque and bacteria to accumulate, which ultimately leads to a gum infection and gives off a chronic bad odor.
– Medical Conditions – There are many health conditions that can cause bad breath, including acid reflux, sinus problems, diabetes, and liver or kidney disease.
– Dry Mouth – Dry mouth is uncomfortable, but it has other side effects as well. Saliva washes away plaque and odor-causing bacteria, so when salivary flow is low, that bacteria is left behind.
How Can a Family Dentist Help?
Thankfully, there are several things you can do to manage or eliminate your bad breath:
– The first step is to schedule a checkup and cleaning with a family dentist. They can remove the cement-like tartar deposits from your teeth that you can't remove at home and will recommend the appropriate treatment if you have gum disease.
– Your brushing and flossing habits don't have to perfect, but they should be as consistent as possible. In general, electric toothbrushes do a better job than a manual brush. Also, you might consider an oral irrigator, which is a great way to flush out plaque from under the gumline (especially if you have gum disease).
– Don't forget to brush your tongue or use a tongue scraper, since the tongue harbors a lot of bacteria.
– See your doctor to rule out any potential medical conditions.
– If you suffer from dry mouth, make sure to drink plenty of water throughout the day, chew sugar-free gum and try one of the product lines in drugstores made especially for this condition.
Bad breath can make anyone feel less confident. But with these tips, you'll be on your way to fresher breath in no time!
About the Author
Dr. Nirav Patel is a family dentist who knows that bad breath affects his patients' overall quality of life. His goal is to help his patients achieve excellent oral health in every area – which includes helping them find solutions for halitosis. If you think you have any other questions, he can be reached via his website or at (561) 530-3764.