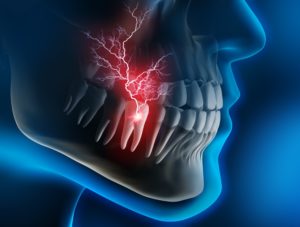 No one ever expects a dental emergency to happen to them, but 1 in 6 Americans have one every year. If you experience sudden pain, trauma to the face, or another issue, do you know what to do? Oral health emergencies are not widely discussed, so it is common to not know how to handle the situation. Although you might be a bit unsure of what to do, time is of the utmost importance. It is best to act fast at home and call your dentist right away to save your smile.
Treating Dental Emergencies
When the unexpected happens, your first instinct might be to head to your local emergency room; however, they are not equipped to handle these situations. Unless you suspect your jaw is broken or you have uncontrollable bleeding, it is best to call your emergency dentist right away and then treat the issue at home.
Knocked Out Tooth
A tooth that has been knocked out can often be saved if you act quickly. Hold it by the crown and rinse it with water. Do not use any cleaners, scrub it, or dry it. Try to reinsert it back into the socket. If you are not successful, place it in a cup of milk or water.
Dislodged Tooth
Gently try to push it back into position and bit on a piece of gauze to prevent it from moving while you wait for your appointment.
Toothache
A sudden or a gradual toothache might be a sign of an infection, known as an abscess. You need immediate care to prevent the infection from spreading into surrounding tissues. Use over-the-counter pain relievers to manage your discomfort.
Broken Tooth
Rinse your mouth with warm salt water and keep your tooth clean. Avoid placing pressure on it. If there is any swelling, apply a cold compress to the outside of your face.
Object Stuck in Teeth
Carefully try to remove it with dental floss. Never use sharp or metal instruments to get it out.
Lost Restoration
If a crown or filling comes loose, do not try to fix it on your own. Instead, keep your tooth clean and use home remedies to manage any pain.
Broken Oral Appliance
If possible, remove the oral appliance and evaluate the extent of the damage. Put it in a safe place until after it has been repaired.
Don't Wait. Call Your Dentist
As with any emergency, reacting quickly to the problem is vital. Do not wait until your next appointment to have the problem treated. Call your dentist right away for a same-day appointment.
About Dr. Nirav Patel
Dr. Nirav Patel received his doctorate degree from the University of Pittsburgh School of Dental Medicine. He completed additional training in general dentistry and embraces the latest innovations to provide his patients with superior care. Dr. Patel believes in always being there for his patients, even during times of emergency. If you have a dental emergency, contact Smile Solutions Dentistry right away for an appointment.