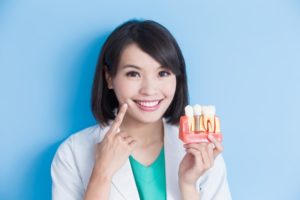 Choosing how to fill those gaps in your smile is a big decision. While you have many options, dental implants are the only restoration that replaces a tooth both above and below the gumline. As such, they are highly recommended for their lifelike look, feel, and function. However, before investing your time and effort into getting a dental implant, it's important to know that you're making a long-lasting and worthwhile decision. Read on as your West Palm Beach dentist answers all your questions about the lifespan and care of this modern tooth replacement option.
How Successful Are Dental Implants?
Getting dental implants is a multi-step process that takes more time than dentures or dental bridges. Unlike removable tooth replacement options, dental implants are surgically placed into the jawbone. Over the course of several months they undergo a process called osteointegration, which fuses them with the jawbone itself as it heals. In the end, dental implants boast a success rate of 95% ten years after placement.
When Do Dental Implants Need to Be Replaced?
In almost every case, you can expect to never need to replace your dental implants. They're built out of durable, biocompatible materials like titanium and dental porcelain, and their integration into your jawbone securely anchors them in place. Your dental implants will only need to be replaced if they sustain serious damage or develop an infection.
How Long Do Dental Implants Last?
Typically, other tooth replacement options need to be repaired or replaced after six to fifteen years of use. On the other hand, dental implants are designed to be a permanent addition to your smile. You can easily expect them to last anywhere from several decades to an entire lifetime. However, their lifespan is highly dependent on how well they're taken care of.
What's the Best Way to Care for Dental Implants?
Thankfully, dental implants don't require any special treatment or care in order to keep them healthy and beautiful. The best way to care for your dental implant is to:
Brush all your teeth for two minutes twice a day.
Floss between all your teeth and rinse with mouthwash daily.
See your dentist for regular checkups every six months.
If you're looking for a permanent solution for missing teeth, talk to your dentist about dental implants. They can help you discover if this advanced tooth replacement treatment is right for you.
About the Author
Dr. Nirav Patel of Smile Solutions Dentistry is dedicated to helping the smiles of West Palm Beach, FL and the surrounding communities stay happy and healthy for a lifetime. He completes hours of continuing education every year in order to offer a broad spectrum of the latest treatments to his patients. Thanks to his years of training and experience, he can complete every step of your dental implant process in office to personally ensure you are as comfortable as confident as possible. If you'd like to learn more about dental implants, feel free to contact him via his website or at (561) 530-3764.