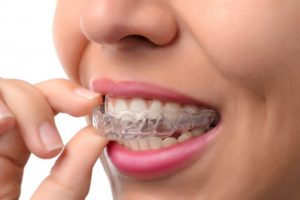 Since childhood, you've desired to have a perfect smile, but for different reasons, it never became a reality. Now you're ready to make a change, but you're not too fond of the idea of wearing traditional braces. You've learned that there's another way – Invisalign aligners, but before you commit to this treatment process, there are some questions that you'd like answered. Thankfully, your cosmetic dentist in Palm Beach is happy to provide you with detailed answers so that you can soon enjoy the improved dental function and overall improved confidence that come along with having straight teeth.
What is Invisalign?
The Invisalign method of straightening your teeth uses custom-crafted BPA-free plastic trays. The process begins with your dentist capturing digital X-Ray images and taking bite impressions so that they can be sent to a trusted lab to fabricate your complete series of aligners.
When they are ready, you'll return to your dentist's office to be fitted with the first set and retrieve the full series. You'll wear each set of aligners for two weeks and then discard them for the next pair in the series, continuing like this until you've completed the treatment process that has been designed by your dentist.
Still, there are other details that you need to know about the process.
How long does the treatment take?
One of the great benefits of the Invisalign process is that it typically shortens the time that would be required by traditional braces. It's quite possible for you to have perfectly straightened teeth in as little as 8-18 months.
This is a big difference from the average time expected when wearing metal braces of at least 24 months. Your specific treatment time, though, will depend on the condition of your teeth.
How often will I need to see my dentist?
Throughout the treatment process, you'll need to visit your dentist every four to six weeks so that he can monitor your progress. Unlike appointments for adjustments when wearing braces, where wires have to be tightened, you can expect these visits to be very swift.
Are the aligners comfortable?
Another attractive feature of Invisalign aligners is that they afford you a comfortable treatment process. This is because each set of trays is designed to perfectly fit the position of your teeth at that part of the treatment process, gradually applying the tension needed to encourage further alignment.
What happens if I lose one of my aligners?
If you lose one of your aligners, it's imperative that you contact your dentist immediately. This is because the effectiveness of your treatment is dependent on you wearing your trays at least 22 hours a day. Your dentist will be able to have another tray crafted, but you can expect your treatment completion trajectory to be set back roughly a couple of weeks.
Will I need to wear a retainer after my treatment is done?
One thing that the traditional braces and Invisalign processes have in common is that both require that you wear a retainer after they're removed. This is because there is bone mass beneath your gums that hasn't set yet. Thus, your teeth are still subject to move. Wearing a retainer will provide the stability that your teeth need to allow the bone to settle and cement your beautiful new smile.
So now that you know just how simple the Invisalign process is, the only thing left to do is give your dentist a call to schedule a consultation. A brand-new smile and heightened confidence await you!
About the Author
Dr. Nirav Patel earned his DMD degree from the University of Pittsburgh School of Dental Medicine and then went on to complete a one-year residency. While there, he dealt with a broad spectrum of cases that helped him become the versatile dentist he is today. Dr. Patel provides comprehensive care at Smile Solutions Dentistry and can be reached for more information through his website.